JONI MITCHELL IN JERUSALEM
Joni Mitchell is a masterful musician: self-taught, she is a composer, poet, instrumentalist and singer extraordinaire. She has collaborated with such jazz greats as Charles Mingus, Jaco Pastorius, and Herbie Hancock. Prince and Björk have cited her as an inspiration.
In the 1970s, his music accompanied me tirelessly in Israel through the streets of Jerusalem, Jericho, Bethlehem and the Sinai desert.
Today, the teenager has become a composer, singer, writer and instrumentalist, but he is still amazed by his music.
Joni Mitchell's chiseled guitar and piano playing is inseparable from her melodies and lyrics. Each song, each record, is engraved in me like sound photos. In order to shake up my reference points, I sought the collaboration of musicians rich in imagination, without preconceived ideas, young people who were not familiar with Joni Mitchell's world.
The choice of songs was influenced by the fact that Joni Mitchell is relatively unknown in France and that her lyrics are in English. So melodies and rhythms play the central role in this concert.
Joni Mitchell in Jerusalem has been waiting for me for 20 years. This is it, I'm here.
With Haim Isaacs (voice, piano, shruti box), Matthieu Beaudin (electronic accordion, Michelsonne piano & sanza) & Jules Lefrançois (tuba, sanza & percussions)
PREVIOUS PERFORMANCES
Théâtre Thénardier, Montreuil february 6, 2022
La Pomme d'Eve, Paris October 4, 11, 18 ; November 8, 15, 29 ; December 6, 13 2021
L'Hyper Festival de la Ville de Paris August 26, 28 et 29. Paris 75014
Festival Annecy Paysage July 14, 15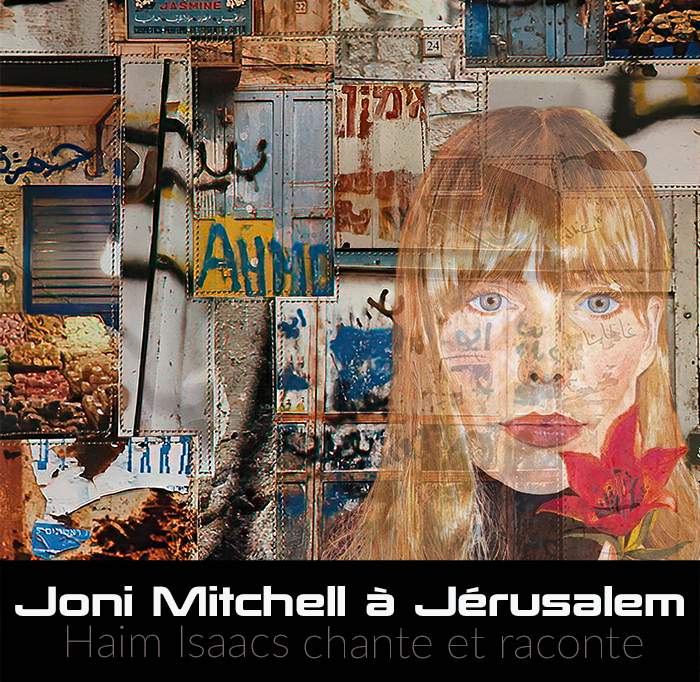 NAZZAZZAN
More information here http://nazzazzan.com
Haim Isaacs Voice
Gaël Ascal Double bass
Matthieu Beaudin Accordion
Cyrille Froger Percussions

Click here to look at our last video


PAST PERFORMANCES

2015
OCTOBER ,22 : l'ATELIER DU PLATEAU fait son cirque
2016
FEBRUARY, 17 : STUDIO DE L'HERMITAGE (cirque/ musique)
MARCH, 2 : LES MIROIRS DE L'ÂME-Paris 18ème
MARCH, 18 : ACP LA MANUFACTURE CHANSON
APRIL, 3 : ATELIER 18
MAY, 14: FESTIVAL LA VOIX EST LIBRE au Cirque Electrique
JUNE 30 : VANDONCOURT et MONTBELIARD
JULY 2 : LE BAL DES FRINGANTS
JULY 3 : ARTS EN SCENE
AUGUST 19 to 23 : FESTIVAL DES ARTS FRANCHIS
SEPTEMBER 2 : LE NESS (Grenoble)
SEPTEMBER 3 : FESTIVAL L'ILE EN PENTE
SEPTEMBER 4 : AU PEPIN'ART
OCTOBER 2 : L'ATELIER DU PLATEAU FAIT SON CIRQUE
NOVEMBER 5 : LA BOUTIQUE DES FRISSONS
2017
Monthly concerts : déc 2016 - nov 2017-PISCINE OBERKAMPF-Paris 11ème
MAY : CHAMPOLLION UNIVERSITY (Albi)
MAY 11 : FESTIVAL LA VOIX EST LIBRE with Valentin Bellot (acrobat) and Nicolas Henry (photograph)
FESTIVAL RHIZOMES 2017 (Paris)
MONASTERY of FONTE AVELLANA(Italy)
2018
Creation for young audiences: Na au Pays de ZzazzaN concert series at Anis Gras-le Lieu de l'Autre (Home)
Creation: Father / Impère Concert series at Bellevilloise (Paris 20me)
NazzazzaN Aquatic Festival Water Is Memory (Vichy)
NazzazzaN Aquatic concert series at the Oberkampf Pool
Festival les Hivernales du Jazz

12 apartment concerts between 2015, november 2015 et february 2017


click here to look at our last videos