Biography
Born in in New York 1957, Haim grew up in Jerusalem. After a classical music education he met and was deeply influenced by the Roy Hart Theater, a group of vocal explorers in the south of France : voice, movement, imagination and another vision of what life can be. After living and working with the Roy Hart Theater for four years Haim moved to Paris where he composes, sings, writes and teaches voice.
He is currently touring Joni Mitchell in Jerusalem - Haim Isaacs sings and tells tales.

Haim gives voice workshops throughout Europe. He has collaborated with the Philippe Genty Company, Conservatoire National Supérieur d'Art Dramatique (Paris), Comédie Poitou-Charentes, Galapiat Circus, Theatre Organic and the Lille Conservatory.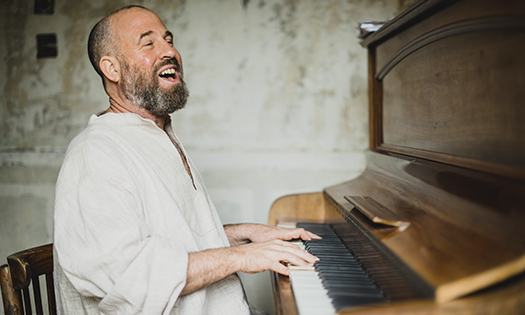 © Guillaume Blanchon
Joni Mitchell in Jerusalem
I was fifteen when I first heard Joni Mitchell's music in my upstairs neighbor's flat in Jerusalem. I'm sixty-three now, living in France, and the songs still elude me, they still slip through my fingers…
Frédéric Reynier : prepared piano / Michel Thouseau : double bass
Creation with Matthieu Beaudin and Jules Lefrançois
Created in 2021 : Festival Annecy Paysage / L'Hyper Festival de la Ville de Paris / La Pomme d'Ève, Paris / Théâtre Thénardier, Montreuil / Roy Hart Théâtre, Les Cévennes / Conservatoire des Coëvrons, la Mayenne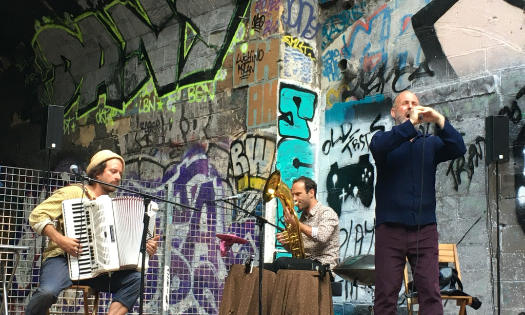 © D.R.
NAZZAZZAN QUARTET
Four musicians improvise in joyful complicity : double bass vociferations about me, myself and I... A water percussion duo... a false blues trio... a foursome wall of sound... a Kill Bill hommage... sprinklings of songs from Brittany and Scotland...

Matthieu Beaudin accordeon, voice / Cyrille Froger piano, percussions, voice / Gaël Ascal double bass / Haim Isaacs voice

Created in 2015 : Studio de L'Ermitage - Paris, ACP - Paris, Festival Les Arts'franchis Saint-André de Monflanquin, concerts en appartements, Festival La Voix est Libre -Paris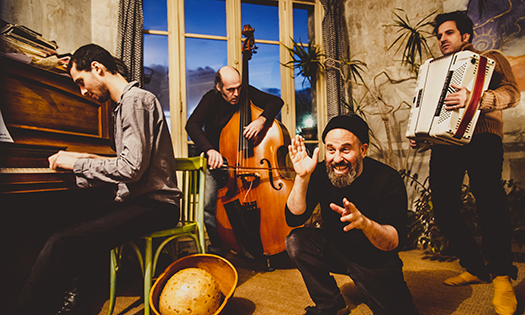 © Guillaume Blanchon
SOLO CONCERT
For voice, piano, water bucket and floor rag.

Haim's path has followed the Roy Hart Theater, dance and clowning. Fascinated by things written and unwritten Haim weaves compositions, improvisations, songs and vocal textures.
Haim Isaacs voice, piano, shruti box, water bucket, sanza / Jean-Marc Colet artistic direction

Created in 2014 : Paris, Montbéliard, Saint Brieuc, Rennes, La Dordogne, Les Cévennes, Montpellier, Barcelone.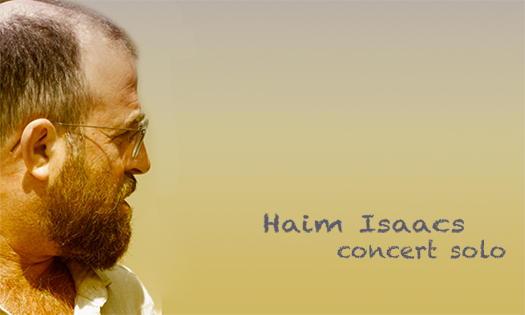 © Didier Monge
BOI
BOI ( meaning « wood » and « drink » in French) is the story of a drunk acrobat who tries to bounce back. It's the story of a musician who accompanies the wood man in his downward spiral and final rebirth.
Jonas Seradin acrobat / Haim Isaacs voice

Created in 2015 : Neerpelt - Belgium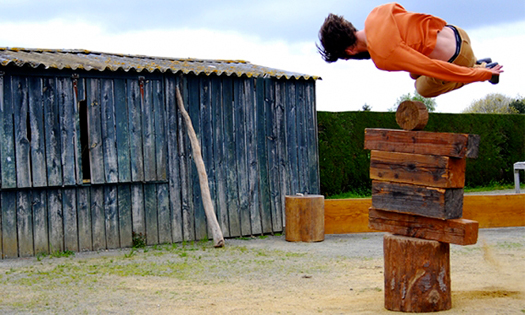 ©
LONGTEMPS JE ME SUIS COUCHE TARD
Rites of passage... language... taking care of another person's body... transformations through dance and music.
Sarath Amarasingam choreography, danse
 / Haim Isaacs voice, piano, dance

2011 - 2013 : Maison du Théâtre et de la Danse 
Épinay-sur-Seine, Regard du Cygne, Dimanche au Garage – Rennes, 
la Voilerie Danses, Micadanses, Studio Danse Théâtre et Musique, Vitry sur Seine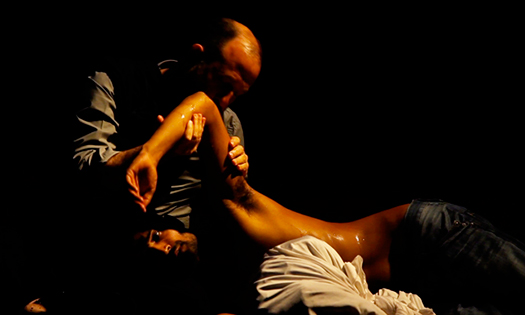 ©
FREEPOP
A meeting point between free improvisation and song : Joni Mitchell, Sting, James Taylor, Michael Jackson et Stevie Wonder.
Stefano Genovese piano, accordeon and objets sonores / Haim Isaacs voice

2009 - 2010 : Slovénie, La maison du Conte - Chevilly Larue
, Comme Vous Emoi – Montreuil, Monastère de Fonte Avellana - Italie, Regard du Cygne – Paris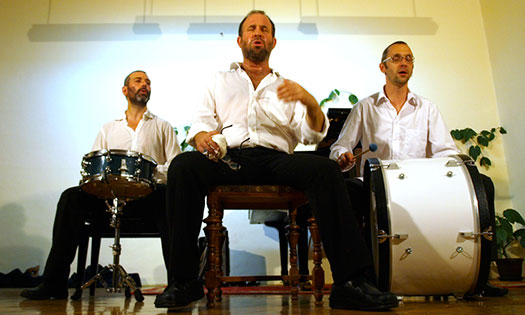 THE HOLE IN THE WALL
"Things written and unwritten"
Based on Haim Isaacs' compositions the concert navigates between written music and improvisation, between conventional instruments (piano, trumpet) and objets sonores (water, plastic, sea shell and broom).

Izidor Leitinger flugelhorn, piano, voice, shofar, sea shell / Haim Isaacs piano and voice

2007 - 2009 : Théâtre la MaMa - New York, Mimo Festival – Brésil, La Slovénie, Eglise St Eustache – Paris, Monastère de Fonte Avellana - Italie, Chapelle Ste Marie d'en Haut – Grenoble, L'enclos paroissial de Runan, Bretagne
 Couvent Alternatif, Camlez, Bretagne, Theater Vrijburcht – Amsterdam, Le Regard du Cygne – Paris, Roy Hart Théâtre - les Cévennes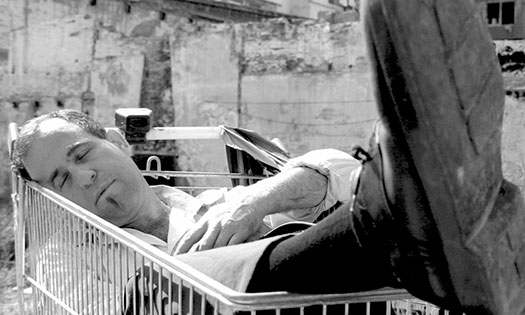 Improvised music
I've had the joy of singing with these artists during concerts of improvised music.
Barre Phillips improvised Music / Gaël Ascal double bass / Matthieu Beaudin accordeon, voice/ Cyrille Froger piano, percussions, voice / Stefano Genovese piano, accordeon / Izidor Leitinger flugelhorn / Michel Thouseau double bass / Renaud Pion clarinet / Payâm Akhshik santour / Abbi Patrix storytelling / Sarath Amarasingam dance / Rémi Yulzari double bass / Baptiste Arnaud clarinet / Marco Quaesimin double bass / Christophe Dellers bandoneon / Gyohei Zaitsu Buto dance / Khadija el Mahdi mask, text / Thanduxolo Bezana song, gumboots / Gigi Lamorose clown / Dany Thepenler machines / Aurélie Pichon bass clarinet / Shankar Kirpalani cello / Macdara Smith trumpet, voice / Fred André voice /
 Cathy Grouet dance / Mathias Desmier guitar / Kazumi Fuchigami dance
 / Linda Edsjo percussions
 / Joao Gonzalez Gracio percussions
 / Jean-Philippe Costes Muscat dance / Antoine Banville percussions / Kumi Iwase saxophone
 / Sylvain Lemêtre percussions / neKomata dance / June Mcgrane voice, improvised text / Yannick Lopez accordeon / Mam'Sika voice / Marie Estève voice / Patrice Jardinet bugle, electronics / Jean Gabriel Massardier video composition in real time

2022
Chant Byzantins et Musique Electroacoustique Abbaye de Noirlac (Fanny Perrier et Matthieu Reynaud)
Espèces d'Indésirables Balade dansée, slamée et chantée, Cie Infusion
Bar à Bulles Cie Caribou
Duo Voix et Rythmes Mouvementés Cie Etreintes (Noëlle Thysse)
Naitre ou pas Naitre Oxygène O (Natale)
Théâtre Transformations (Tracey Boot)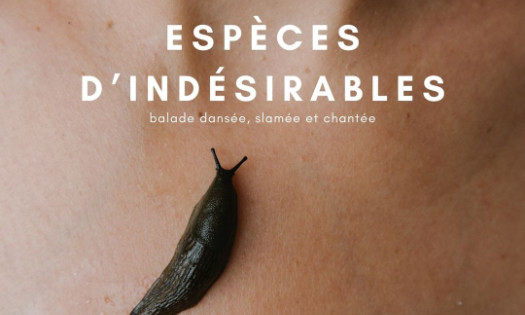 2021
Concert chant Byzantin Festival Avignon off (Fanny Perrier et Michel Thouseau)
Cabaret Grenadine Cie la Doryphore, Lydia Sevette (Masques et Marionettes)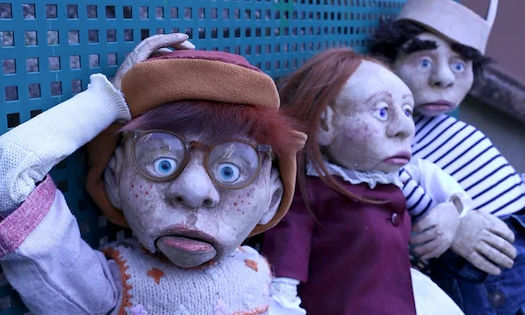 © Lydia Sevette
2020
La Maison de Bernarda Alba Federico Garcia Lorca, CDN Poitou-Charentes (Yves Beaunesne)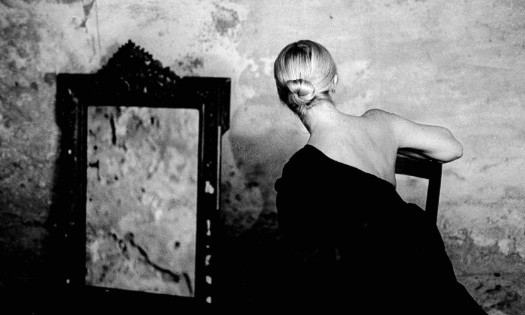 © Guy Delahaye
2019
Ruy Blas (Vitor Hugo) CDN Poitou-Charentes (Yves Beaunesne)
Trio Suzanne Nancy (Marc Goujot)
Concert chant Bysantin Festival Avignon off (Fanny Perrier)
Laila Aicha le chant Berbère de l'eau Festival Avignon off (Khadija El Mahdi)
Les Sorcières La Maison du Conte Chevillie Larue
Premiers Printemps Paris Compagnie Soleil sous la pluie (Catherine Gendre)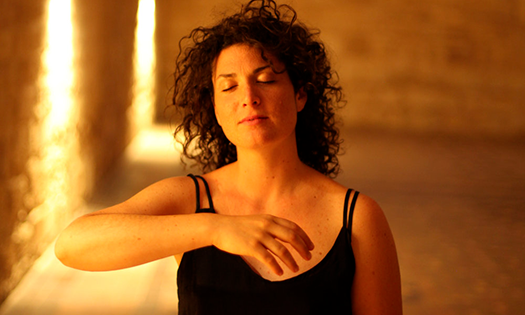 2018
Prince travesti (Marivaux) CDN Poitou-Charentes (Yves Beaunesne)
C'est quand même remarquable CNSAD Paris (Yvo Metens)
Tram des Balkans Lyon (Vincent Gaffé)
Trio Suzanne Nancy (Marc Goujot)
Oy Trio Nantes (Julia Melançon)
La démocratie du désir Paris (Nathalie Canion)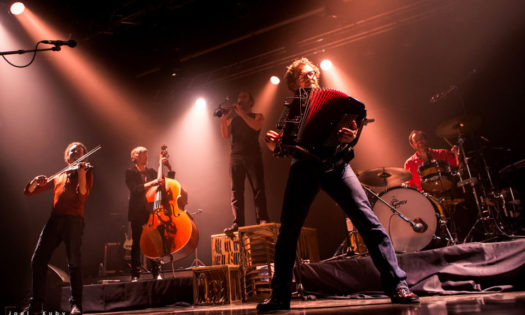 2017
Roméo et Juliette (Shaekespeare) Théâtre Transformations Chambery (masques et voix)
Grenadine (Lydia Sevette) Paris (Masques et Marionettes)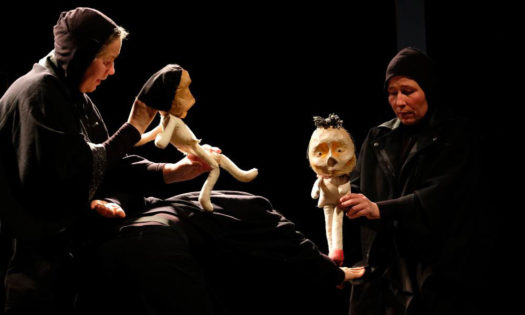 2016
Paysages Intérieurs Cie Philippe Genty
Le Cid (Corneille) CDN Poitou-Charentes (Yves Beaunesne)
Cave Canum Cie Azeïn (Audrey Louwet)
Vavangaz Ti Katorz (Cazal) Cie Zafer (Nelly Cazal)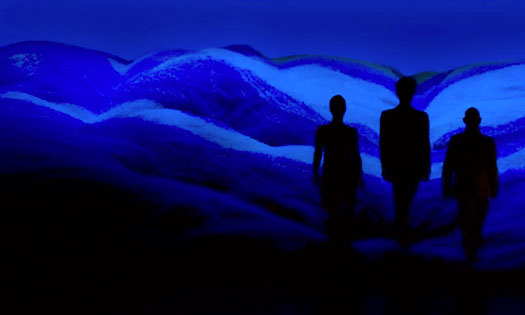 2015
Intrigue et Amour (Schiller) CDN Poitou-Charentes (Yves Beaunesne)
Nouvelles représailles (H. Levin) Cie les Héliades (Véronique Widock)
Aragon en Chansons Sylvain Fontimpe and Clement Caratini
Mad #47# (Brie) Cie Gakokoé (Mohamed Guellati)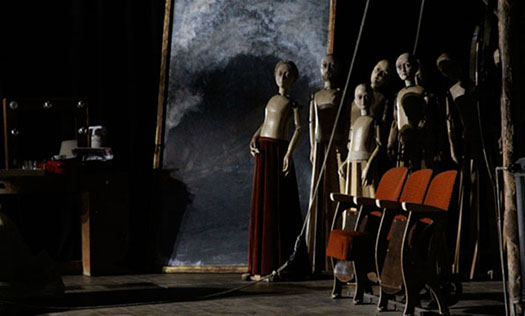 2014
L'Annonce Faite à Marie (Claudel) CDN Poitou-Charentes (Yves Beaunesne)
Mahâbhârata La Maison du Conte (Abbi Patrix)
BOI Galapiat Cirque (Jonas Séradin)
Dédoublez moi Galapiat Cirque (Barbara Gay)
Les Elles Cie Amara (Emmanuelle de Gasquet)
La Corde et On Cie L'Hydragon (Valentin Bellot)
Small Cie Aruspice Circus (Bruno Robert)
Vous (Vincent Gaffet)
Betty (Théâtre Transformations)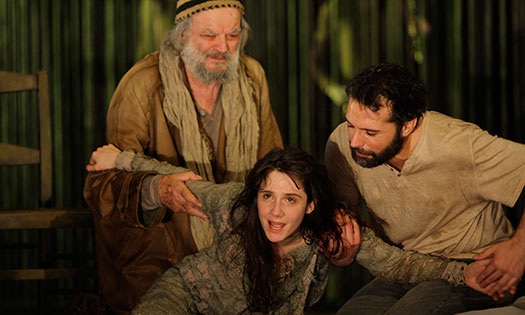 2013
Ne M'oublie Pas Cie Philippe Genty
Shilpkes Cabaret Yiddish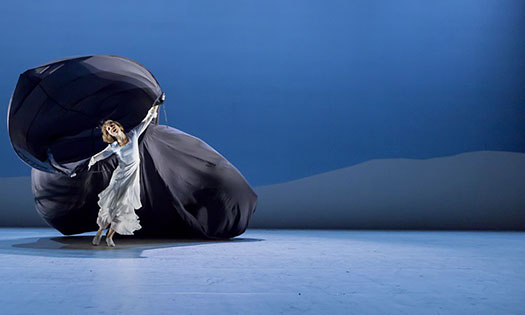 2011
Musiques Intérieure Trondelag University, Norvège
Antigone (Sophocle) Théâtre du Temps Pluriel (Olivier Broda) (composer and vocal direction)
Tram des Balkans (Vincent Gaffet)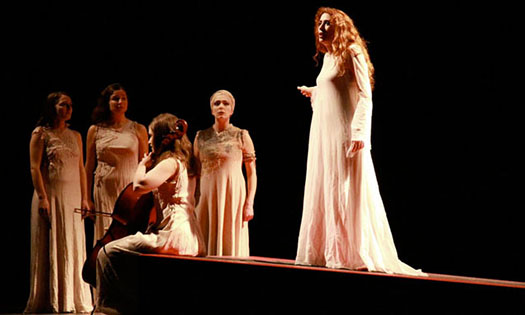 2010
Voyageurs Immobiles Cie Philippe Genty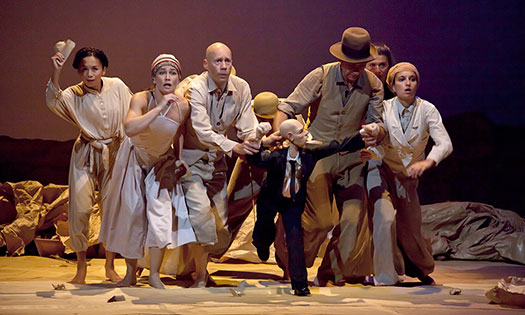 Before 2010
Illico Quintet Strings and Voice / The Coat (Gogol) Théâtre de la Jacquerie / The Mandragore (Machiavel) Cie Art Scénicum, (vocal dir. and composition) / Liliom (Molnàr) Théâtre de la Jacquerie / Cabaret Monstre Théâtre de la Jacquerie / Femmes, guerre et comédie (Brasch) Théâtre Alibi (vocal dir. and composition) / Théâtre alchimique Panthéâtre
Cd's
The Hole in the Wall composer, lead singer 2006
Cathy Gringelli composer, back up vocals 2002
Haurogné à 4 voix arranger, back up vocals 2002
The Bastard's Paradise composer, lead singer 1997
Racines dans l'air singer with Livia Koppmann 1992
Studies
Voice Roy Hart Théâtre
Classical singing Judy Axelrod, Dov Kaplan, Patricia Palamara
Theory and harmony San Francisco State University
Experimental vocal improvisation Izidor Leitinger, Alex Grillo, Phil Minton, Joelle Leandre
Vocal jazz Pierrick Hardy, Andrew Crocker, Roger Letson, Sara Lazarus, David Linx, Rhiannon
Indian vocal percussion Marylène Ingremeau
Buto dance Gyohei Zaitsu
Contemporary dance Karim Sebar, Julyen Hamilton, Olivier Besson, Jean Marc Colet, Trudy Kressel, Paola Piccolo, Dominique Dupuis, Françoise Dupuis, Jackie Taffenel
Storytelling Abbi Patrix, Ben Haggerty
Choreographic theater Enrique Pardo
Clown Eric Bouet, Fred Robbe, Daniel Bourgy, Nino Montalto, Bataclown, Ludor Citrik
Tchi Qong François Liu
Yoga Iyengar
Publications
Her Flat Was Dry Ginosko literary journal, February 2013
Tzipora Workers Write Journal ! June 2012
Old Tom Thumb Mochila Review, May 2011
Zouhira Massachusetts Review, September 2010
Tzipora finalist for the Glimmer Train Short Story Award, May 2010